AddSecure Roadbox
Roadbox verzamelt voertuiginformatie zodat chauffeurs en thuisbasis deze gegevens real-time tot hun beschikking hebben.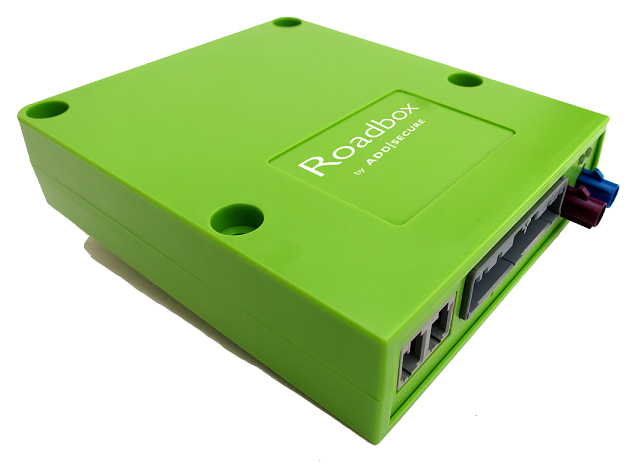 AddSecure Roadbox is de centrale schakel tussen het voertuig, de tachograaf, de chauffeur en het team op kantoor. De computer biedt diensten voor transportmanagers die voertuig- en tachograafgegevens realtime tot hun beschikking willen hebben om de dagelijkse routes, het brandstofverbruik, het rijgedrag van de voertuigen te volgen en de rij- en rusttijden te optimaliseren.
Gebruik met of zonder scherm
Roadboax kan via Bluetooth en USB met uw schermen verbonden worden. Dit betekent een hoge mate van flexibiliteit omdat het kan worden gebruikt als een "black-box" (zonder scherm), met een mobiel (Vision Mobile). Verder is Roadbox compatibel met verschillende soorten voertuigen (HCV of LCV) en de meeste voertuigfabrikanten.
Altijd verbonden
Roadbox is constant verbonden met Co-Driver Weboffice via onze eigen simkaart via het mobiele netwerk. De servers in de AddSecure-cloud worden bijgewerkt met gegevens van de chauffeur, het voertuig en de tachograaf om ons volledige dienstenpakket voor wagenpark- en transportbeheer mogelijk te maken.
Roadbox is gebouwd op een nieuwe en slimme architectuur die verbeterde connectiviteit, vereenvoudigd beheer en krachtige diagnose op afstand mogelijk maakt om de operationele kosten te verlagen en de bedrijfstijd te verbeteren.
Beschikbare diensten
De volgende diensten zijn beschikbaar met Roadbox:
Positionering, tracking, geofencing
Ecorijden, brandstofbeheer
Rij- en rusttijden
Tachograaf op afstand downloaden
Routeberekening
Start- en stoprapport
Tijdmachine
Kan gecombineerd worden met andere producten
Vision Fixed of Vision Mobile
Navigatie
PDF Creator
Scanapp
Voordelen
GPS- en GSM-modem (uw land + roaming voor meer dan 30 landen)

Schaalbare oplossing door toevoeging van een mobiel scherm (Bluetooth).

Maakt voertuigdiensten mogelijk zoals ecorijden, rij- en rusttijden en downloaden van tachografen

Automatische login (vereist vooraf geregistreerde/toegewezen chauffeurskaart)

Krachtige online/offline mogelijkheden (buffert gegevens indien offline)

Kan aangesloten worden op verschillende soorten voertuigen, tachografen en merken (FMS/CAN)