Co-Driver Weboffice
Laat uw collega's op kantoor in een perfect functionerend team werken samen met de chauffeurs via Co-Driver Weboffice, onze gebruiksvriendelijke backoffice-applicatie voor Fleet Management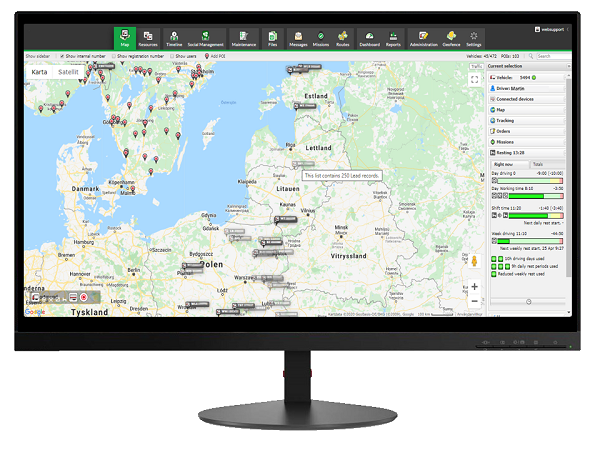 Co-Driver Weboffice van AddSecure is een webbased meertallige backoffice-applicatie. Het vele functionaliteiten om uw wagenpark en uw chauffeurs op een efficiënte manier in te zetten en te beheren.
Moderne en gebruiksvriendelijke interface
Alle Weboffice functionaliteiten zijn ontwikkeld in samenspraak met de gebruikers. Hierdoor is de acceptatiegraad van uw medewerkers optimaal en het opleidingsproces zeer eenvoudig. Vrijwel alle functies zijn met slechts één muisklik bereikbaar via snelle links op de kaart of via het menu. Daarnaast zijn er diverse rapporten en dashboards beschikbaar voor de betreffende informatiestromen. Weboffice is volledig configureerbaar en de opvraagbaarheid van de verschillende functies is gebaseerd op connecties in de kaart of door toegang tot elke functionele module via het hoofdmenu.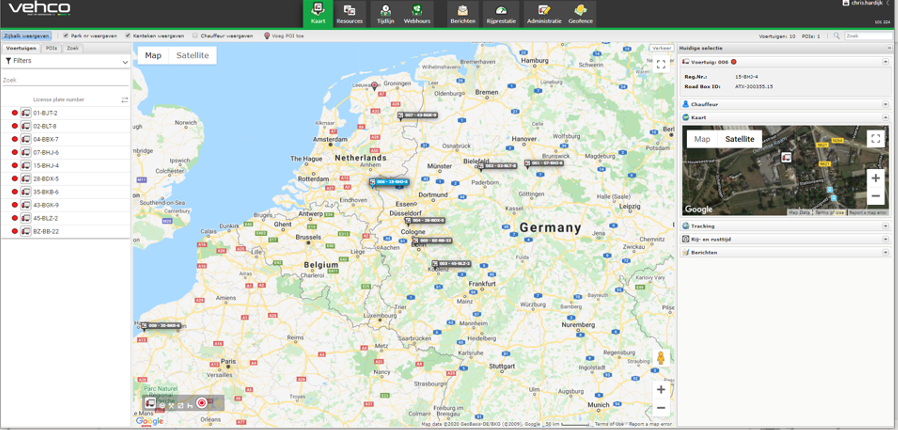 Op rollen gebaseerd toestemmingssysteem
Een rol biedt toegang tot gegevens voor gebruikers en voertuigen in groepen en subgroepen waar de gebruiker lid van is. Dit is een moderne manier om verschillende rollen en rechten binnen de organisatie aan verschillende personen toe te kennen. Het maakt het ook mogelijk om de toegang tot het systeem aan te passen aan de behoeften van elke gebruiker.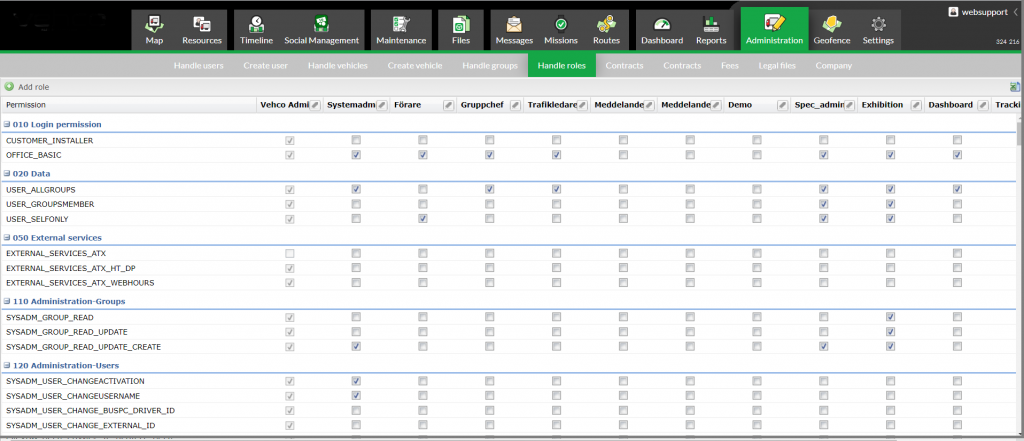 Zorg ervoor dat al uw gebruikers toegang krijgen tot de juiste diensten en bronnen via het op rollen gebaseerde rechtensysteem.
Het systeem instellen via de beheermodule
Weboffice is geconfigureerd via de beheermodule om volledig aan te sluiten bij de manier waarop uw bedrijf is georganiseerd. Daartoe bevat de beheermodule de onderstaande functies.
Gebruikers afhandelen
Gebruikers maken
Voertuigen afhandelen incl. activeer de installatielink naar de Co-Driver-app
Groepen afhandelen
Rollen afhandelen
Contracten afhandelen
Verwerkingskosten (vergoedingen)
Juridische bestanden
Bedrijfsinfo
Krachtige rapporten en dashboard
Weboffice biedt een krachtige rapportagemodule en standaard dashboard rijprestaties. Op deze manier kan veel van de informatie die continu wordt verzameld, worden gebruikt om de processen te monitoren en de resultaten te optimaliseren. De belangrijkste kenmerken zijn
Grafische weergaven van rapportvoorbeelden om de gebruiker te begeleiden
Vooraf gedefinieerde rapporten voor de veel functies
Koppeling middels API voor toegang naar Business Intelligence tools
Deel rapportsjablonen met andere Weboffice-gebruikers
Plan rapporten via links die in e-mails worden verzonden
Export van rapporten in meerdere formaten (XLXS, XLS, CSV, PDF)
Dynamische hulpbron- en tijdsinterval om terugkerende rapporten mogelijk te maken
Trendanalyses in rijprestaties
Gedetailleerde informatie tijdens uitvoering
Vanuit het vragenpad of middels het afhandelen van vervoersopdrachten biedt Weboffice een zeer gedetailleerde overzicht van locatie, (wacht) tijden, kilometerstanden. Ook geeft het zonder of met integratie van uw Transport Management Systeem (TMS) realtime inzicht in de afhandeling van de chauffeur van de opdrachten. Dit alles inclusief handtekeningen foto's en desgewenst emballagemutaties. Er zijn standaard koppelingen met vrijwel alle marktstandaard TMS systemen beschikbaar. De door het voertuig geregistreerde momenten van stilstand worden door de chauffeur verantwoord. Hierdoor ontstaat een sluitende urenadministratie waarmee u middels de module Co-driver Webhours een volledige geautomatiseerde salaris voorloop kunt voeren.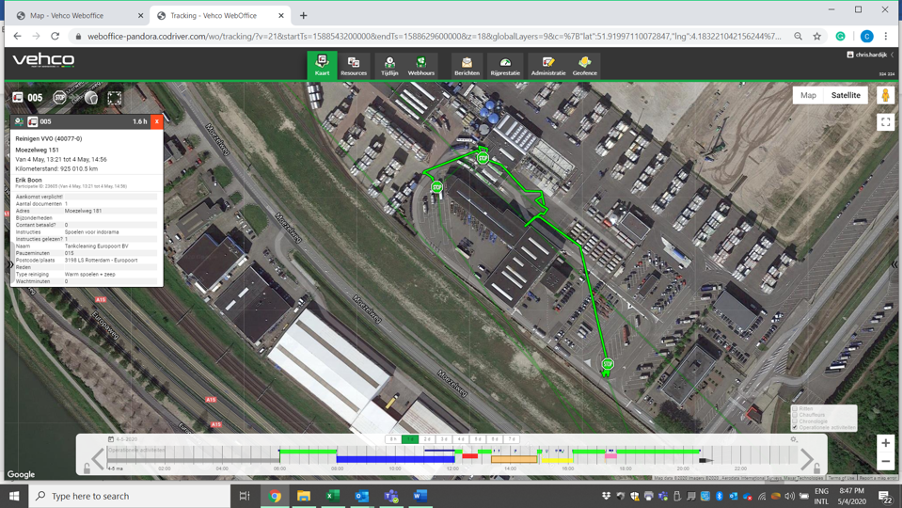 Zicht op tachotijden
Naast het zorgeloos kunnen downloaden van zowel het massageheugen als de chauffuerskaart van de digitale tachograaf is het voor een planner van cruciaal belang inzicht te hebben in de beschikbaarheid van mens en materieel. Zowel voor een individuele opvraging als voor een overzicht van een groep biedt Weboffice u dit inzicht. Deze data is tevens beschikbaar voor uw planapplicatie of uw TMS. Hierdoor is Weboffice het ideale hulpmiddel voor zowel uw ervaren planner als voor uw medewerkers die de fijne kneepjes van het val nog moeten leren.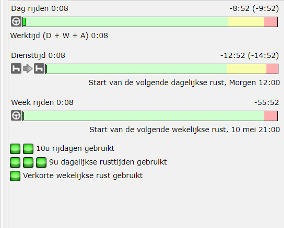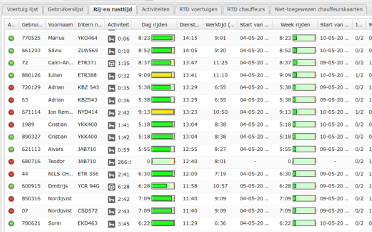 Voordelen
Zicht op al uw materieel (voertuigen, opleggers, containers, etc.) in ÉÉN scherm

Directe toegang tot de meeste functies met slechts één muisklik of blik

Zeer configureerbaar om de oplossing in te stellen zoals uw bedrijf is georganiseerd

Op rollen gebaseerd rechtensysteem om elke gebruiker toegang tot de juiste bronnen en diensten te bieden