AddSecure Vision
Android-scherm voor een perfecte samenwerking met Uw chauffeurs.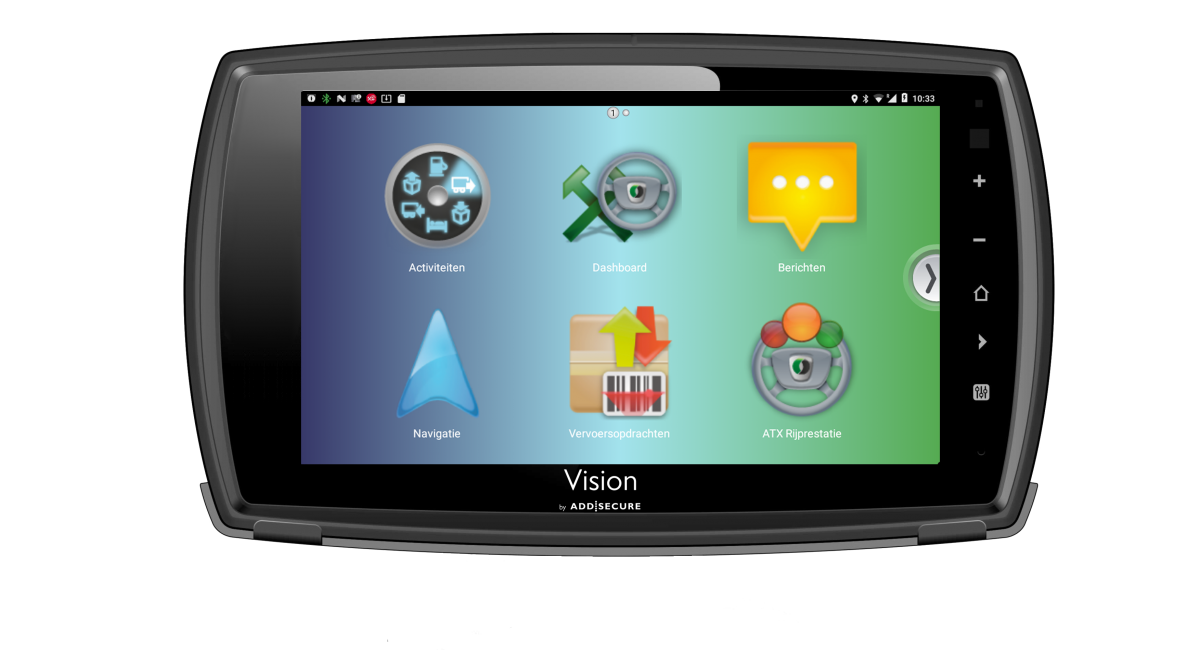 AddSecure Vision is een Android-scherm (7'-inch) voor commerciële voertuigen. De AddSecure Vision heeft een ingebouwd modem en beschikt over een simkaart en een camera om het scherm ook buiten de cabine te kunnen gebruiken, bijv. om goederen of documenten te scannen, voor sign-on-glass of foto's te maken van beschadigde lading. Het scherm kan gebruikt worden in combinatie met de ATX3/ Roadbox-boordcomputer. Berichten worden rechtstreeks naar de Vision verstuurd zodat de chauffeur ook buiten de cabine real-time in verbinding is met de planning. Uw chauffeurs krijgen alle informatie die ze nodig hebben middels de opdrachten en berichten, ze worden real-time gecoacht in ecodriving, optimaliseren hun rij- en rusttijden of vinden via de navigatiefunctionaliteit de beste, of voorgeschreven weg naar de bestemming.
Maximale flexibiliteit zonder verlies van zekerheid en behoud controle over het dataverbruik
Een groot voordeel van de Vision is aanwezigheid van een beheersomgeving waardoor alleen de door u gewenste applicaties worden geïnstalleerd waarbij Addsecure de garantie biedt dat uw bedrijfskritische processen te allen tijde ondersteund blijven. Dit betekent een fraudebestendige oplossing beheerd door AddSecure. Geen malware, geen ongewenste inhoud en geen gedoe met beveiligingsupdates, wel maximale inzetbaarheid en diagnosemogelijkheden op afstand.
Belangrijkste kenmerken
Android-scherm (7-inch capacitieve TFT)
Ingebouwde batterij
Besturingssysteem: Android
Volledig beheerd door AddSecure
Vision – gecontroleerde flexibiliteit
Houder met "pogo-pins" voor eenvoudige  plaatsing
Mobiel (altijd online)
Documentscanner/-camera
Aparte simkaart
Handtekeningen en barcodescanning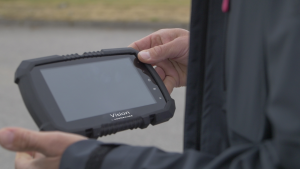 Met één klik kunnen chauffeurs berichten, hun ecorijprestaties of informatie over hun opdrachten bekijken.
Vision wordt samen met de ATX3/Roadbox gebruikt, die verbonden is met de FMS van het voertuig en met de tachograaf. De oplossing biedt alle belangrijke gegevens voor een volledige analyse van uw transportactiviteiten.
Voordelen
Fraudebestendige oplossingen beheerd door AddSecure. Geen malware, geen ongewenste inhoud en geen gedoe met beveiligingsupdates

Een stabiele oplossing met een hoge bedrijfstijd, zonder dat u zich zorgen hoeft te maken over simkaarten of datavolumes

Overal on-line zowel in de cabine als daarbuiten bij calamiteiten middels Vision Mobile