AddSecure VPweb
Met de VPweb klantenportaal heeft de klant altijd de jusite informatie bij de hand.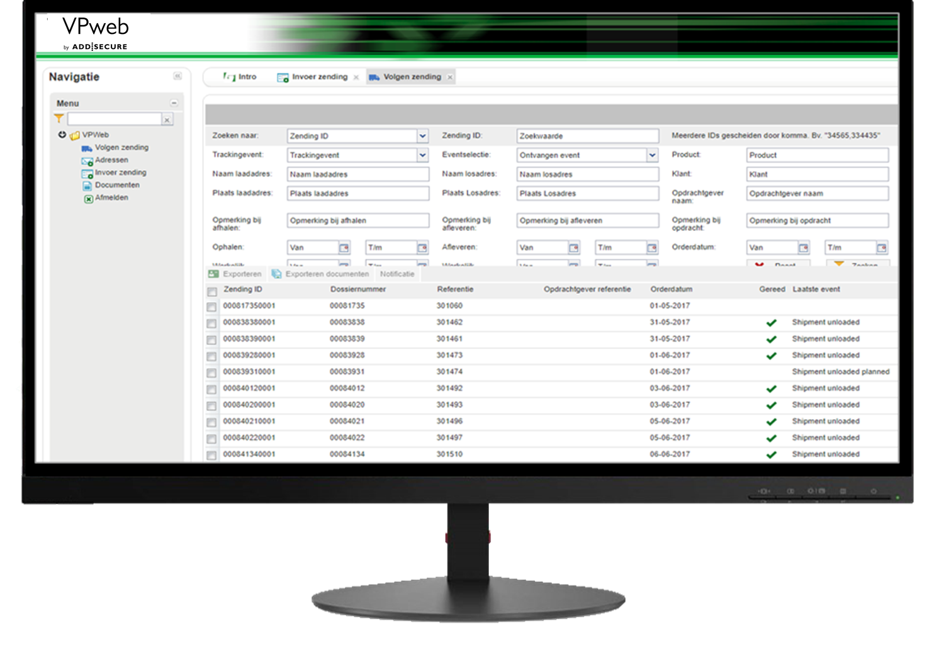 VPweb vormt de schakel tussen logistiek dienstverlener en klant. Het koppelt order- en real-time voertuiginformatie middels een online klantenportaal.
Met VPweb kunt u uw klanten digitaal koppelen aan uw bedrijfsprocessen. U kunt orders importeren of laten invoeren door klanten, orders laten volgen en vervoersdocumenten, foto's en vrachtbrieven delen met uw klanten. Ook kunnen klanten voertuigposities of voertuig- en ritoverzichten inzien en opvragen. Allemaal real-time, transparant en betrouwbaar. Uw informatie is ook de informatie van de klant. Hiermee kan informatie permanent online beschikbaar zijn.
VPweb is naadloos te integreren met de overige Vehco producten. Daarnaast is VPweb te koppelen met uw bestaande systemen. VPweb is volledig in eigen beheer ontwikkeld, dus implementatie is eenvoudig. Hierdoor krijgt uw automatisering een dynamische en uniforme klantenportaal, die 24/7 beschikbaar is.
Voordelen
On-line invoer met klant specifiek invoerscherm

Batch invoer van orders in bestandsformaat van uw klant

Digitale orderbevestiging met dynamische verwachte levertijd

Actieve meldingen van statusverandering

Meekijken door klant van positie voertuig

Snel inzicht in de digitale transportdocumenten en foto's